Metalized Polyester 630V Capacitor Packs
This range consists of packs of five or ten 630VDC working Polyester Film capacitors ranging from 1000pF to 0.47uF, similar to the Mallory 150 series.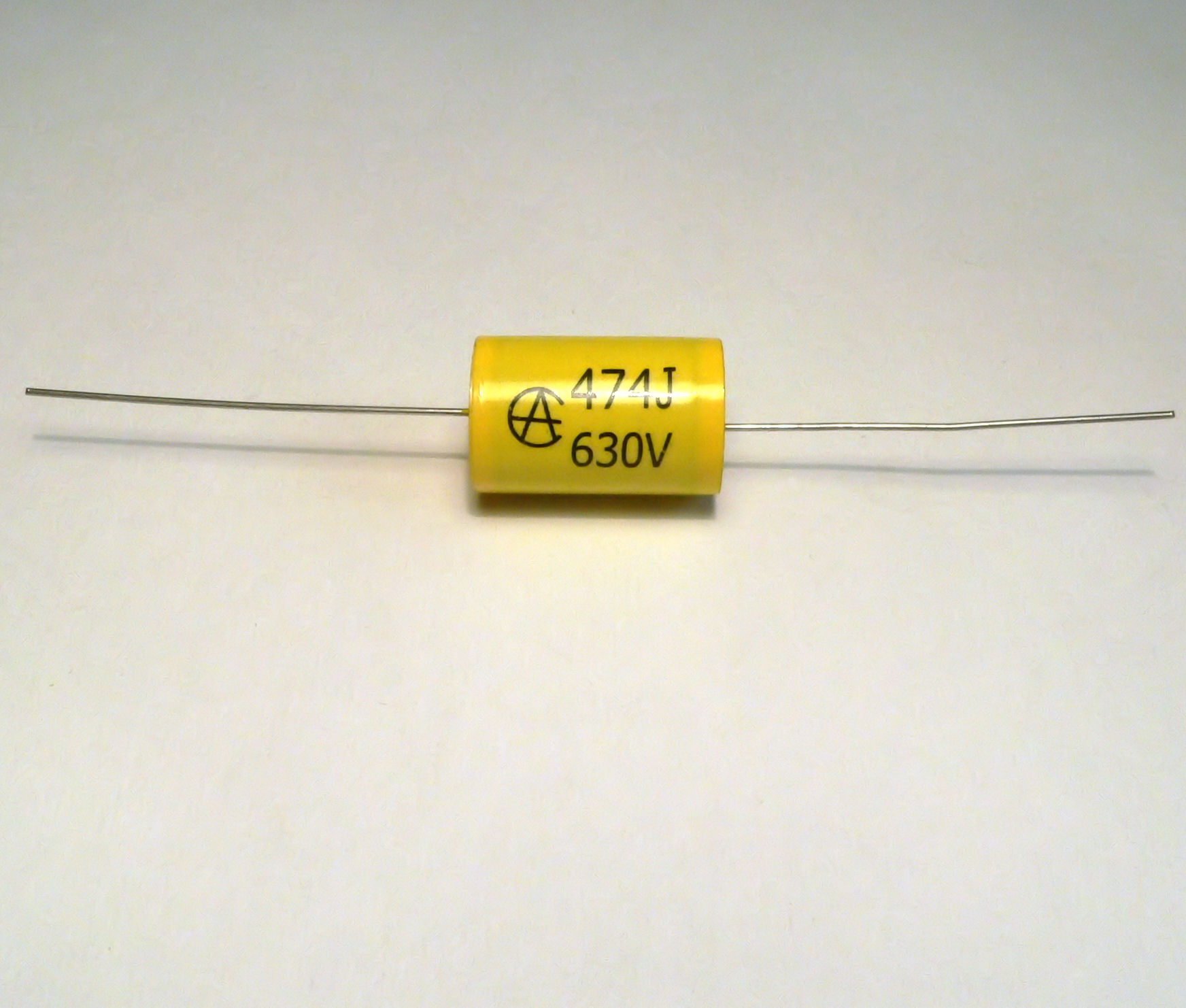 These packs of capacitors are an affordable substitute for Mallory or Sozo capacitors, with the same rating and specifications.
> This range are ideally suited to high voltage circuits in vintage radios and radiograms, and the higher values are chosen to be a good match for those used in classic Marshall Plexi guitar amplifiers, JCM800 metalface amplifiers and their modern clones. They are also idea for use in home build valve Hi-fi amplifiers.
These components are supplied from UK stock.... why wait a month for deliveries from the far east?
Polyester Film 630V Capacitors
Value & Qty
Applications
Voltage
Click buttons to buy
1000pF pack of 5
1000pF, marked 102, used in timing and tone shaping filter circuits
630VDC non polarised
Price: £1.99
2200pF pack of 5
2200pF, marked 222, used in timing and tone shaping filter circuits
630VDC non polarised
Price: £1.99
4700pF pack of 5
4700pF, marked 472, used in timing and tone shaping filter circuits
630VDC non polarised
Price: £1.99
0.01uF pack of 5
0.01uF or 10,000pF, marked 103, used in timing, tone shaping filter and decoupling circuits... also ideal replacements for old "Hunts style" capacitors in vintage valve equipment
630VDC non polarised
Price: £1.99
0.01uF pack of 10
0.01uF or 10,000pF, marked 103, used in timing, tone shaping filter and decoupling circuits
630VDC non polarised
Price: £3.79
0.022uF pack of 5
0.022uF or 22,000pF, marked 223, used in tone shaping filter and decoupling circuits
630VDC non polarised
Price: £1.99
0.047uF pack of 5
0.047uF or 47,000pF, marked 473, used in tone shaping filter and decoupling circuits
630VDC non polarised
Price: £1.99
0.1uF pack of 5
0.1uF, marked 104, used very commonly in tone shaping filter and decoupling circuits. Ideal replacement for old "Hunts" capacitors in vintage valve radios and radiograms etc.
630VDC non polarised
Price: £1.99
0.1uF pack of 10
0.1uF, marked 104, used very commonly in tone shaping filter and decoupling circuits. Ideal replacement for old "Hunts" capacitors in vintage valve radios and radiograms etc.
630VDC non polarised
Price: £3.79
0.22uF pack of 5
0.22uF, marked 224, used in audio coupling and decoupling circuits.
630VDC non polarised
Price: £2.29
0.47uF pack of 5
0.47uF, marked 474, used in audio coupling circuits.
630VDC non polarised
Price: £2.99